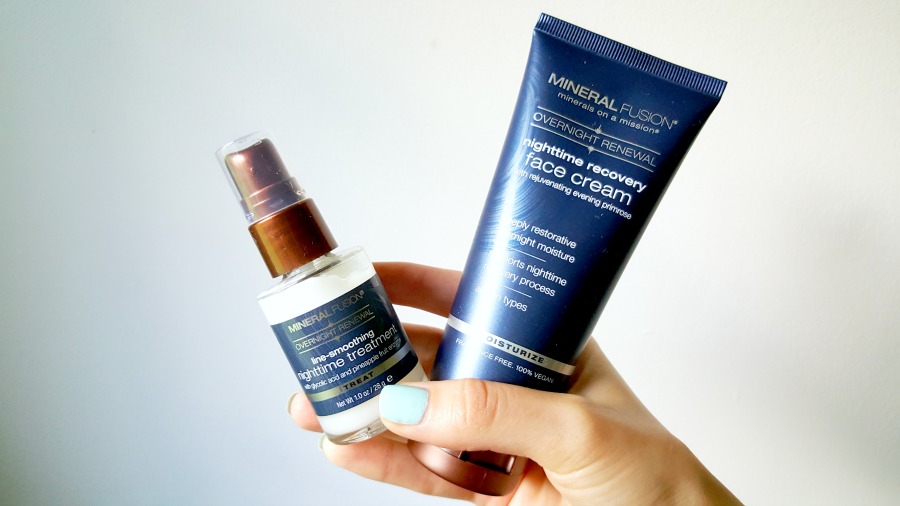 Mineral Fusion is a Leaping Bunny certified company dedicated to making cosmetics, skin care, body care, nail care, and hair care healthy and effective while contributing to the wellbeing of the community. Its products are diverse and work for a wide variety of individuals. Addionally, all products are made in the US and do not include gluten, parabens, talc, artificial colors, synthetic fragrances, SLS, and phthalates. Mineral Fusion is a wonderful option for individuals looking for products that are more natural, not filled with contriversial ingredients, and work well.
Mineral Fusion recently released nightly overnight skin care, which includes the Line-Smoothing Nighttime Treatment and Nighttime Recovery Face Cream. The line-smoothing treatment is light and quickly absorbed. It is used before moisturizer on face, neck, and decollete. Containing ingredients such as glycolic acid and pineapple fruit enzyme, it helps uncover smoother skin and reduce the appearance of fine line and wrinkles. The nighttime recovery face cream is thick and super moisturizing. This product is also applied all over the face, neck, and decollete. It contains evening primrose oil, which is rich in omega fatty acids and helps restore moisture. It also contains glycolic acid, which contains wrinkle fighting peptide and is naturally exfoliating. After using these products together, skin is super hydrated. In the morning, skin is fresh, moisturized, and smooth.
To shop Mineral Fusion, you can visit our website here.