Outside of the Box and Loving It
We are constantly amazed by our companies and their innovative, original products. This month, we are highlighting some of our favorites, from cosmetics to fragrance in unexpected places! We also interview groundbreakingly sustainable company, Ethique!
---
Next level personalization
Gone are the days of color cosmetics only targeting a select group of cookie-cutter people. We are now constantly blown away by companies' creativity and individuality. There are endless possibilities appealing to a vast array of individuals targeting specific needs and also providing individuality. Check out some of our favorite companies that offer products for individuals with specific needs that are way outside of the box.
Freck
When Freck was originally approved in 2019, they had recently launched with their trademark product, Freck Noir, or, The Original Freckle. Freckles were once stigmatized, and this company made them not only a lusted after feature, but one that you can even create for yourself! With a color that works for the majority of skin tones, Freck Noir has a similar applicator to a liquid eyeliner, and provides you with the ability to create your own pattern of freckles. From sparse to more clustered, the possibilities are endless. I love this product, especially in the summer, to define and add to my natural freckles. It's definitely a product that encourages fun and playfulness with your everyday look! –Caitlin
ManiMe
Over the years, nail wraps have become increasingly popular, and for good reason! They provide an unsmudged, perfectly even mani, often with the addition of nail art or multi-color designs. However, the one issue with nail wraps is that they come in generic sizes that may not fit your specific nail bed or nail shape. However, ManiMe took these issues into account and created a feature on their website for you to submit images of your nails so that their nail wraps fit your specific nail characteristics. Additionally, they provide a wide array of classy and fun designs! We are especially digging Rainbow Love this month. –Caitlin
Redhead Revolution
Redheads can often have a sense of inferiority, due to their hair and skin coloring. Growing up with a redheaded sister, who is also the middle child and only redhead, I've witnessed this issue firsthand. Luckily, Redhead Revolution was created with exactly this group in mind, and who better to be behind the inspiration than a redhead herself? I immediately thought of my sister when I heard of Redhead Revolution and gave her some products to try. She gravitated to the Honest Auburn Mascara, as it was a great match for her spicy locks. She was pleased with how it applied smoothly and evenly, with no smudging. Additionally, the Sol Protector Lip Gloss was a HUGE hit! Our ginger loved how it "looks more natural than a colored gloss." The application went on sheer to adjust the level of shine, and the "not sticky" attribute is confirmed! With a niche like this in the beauty (and cruelty-free) world, Redhead Revolution is sure to give more redheads a boost from minority to downright elite! –Maria
---
Uncommon Scents: Smart Ways Companies are using Fragrance
Working on the cruelty-free certification of more than 2,300 (!) companies, we have come across some really unique products from Leaping Bunny certified companies over the years, from butt masks to hair glitter. But since this month, we are all about companies doing things a little differently, let's delve into some original products with scents that might surprise you!
Poo Pourri
We will start off by saying everybody poops. There, now that we've gotten that out of the way, let's delve into how to combat the inevitable bathroom odor that follows. The answer: Poo Pourri's Before You Go Spray. Just a couple pumps into the toilet before you do your deed and you are good to go! Instead of a stink, you might smell coconut, freesia and citrus from the Ship Happens spray or catch a whiff of cedarwood, pine, and citrus in the Heavy Doody variety. This stuff, made of a magical mix of essential oils, really works to trap the crap (smell).
AURA
Hair coloring is SUCH a personalized thing. Everything from shade, to intensity, to how long it lasts differs from person to person. That's why we love AURA so much. They make individualized hair care products (and colors) according to your preferences. You'll first take a quiz to match you up with the best products for your hair. Then you get to specify what kind of color you are looking for (from classic to fantasy; there are SO many colors to choose from) AND pick your desired intensity and scent (including unscented if you prefer). You can even name your products, which deliver fabulous results by the way. We tried a vivid blue and the color stays! Plus, your hair will smell amazing. Our favorite scent is Golden Sunrise, with notes of clary sage, orange, and vanilla.
Preshies
Nearly everything about our pooches are perfect: we love their wagging tails, their adorable faces, and their perfect ears. But let's be honest. We don't always love their doggy scent. This is where Preshies comes in. It's a company that makes perfume for dogs! Using only the safest ingredients, they have created two scents: Amber Vanilla and Cedar & Patchouli. Their perfume not only smells good, it is also vitamin-enriched with a conditioner, so it helps keep coats soft and shiny. We give this two paws up!
---
Download our new Cruelty Free Shopping Guide App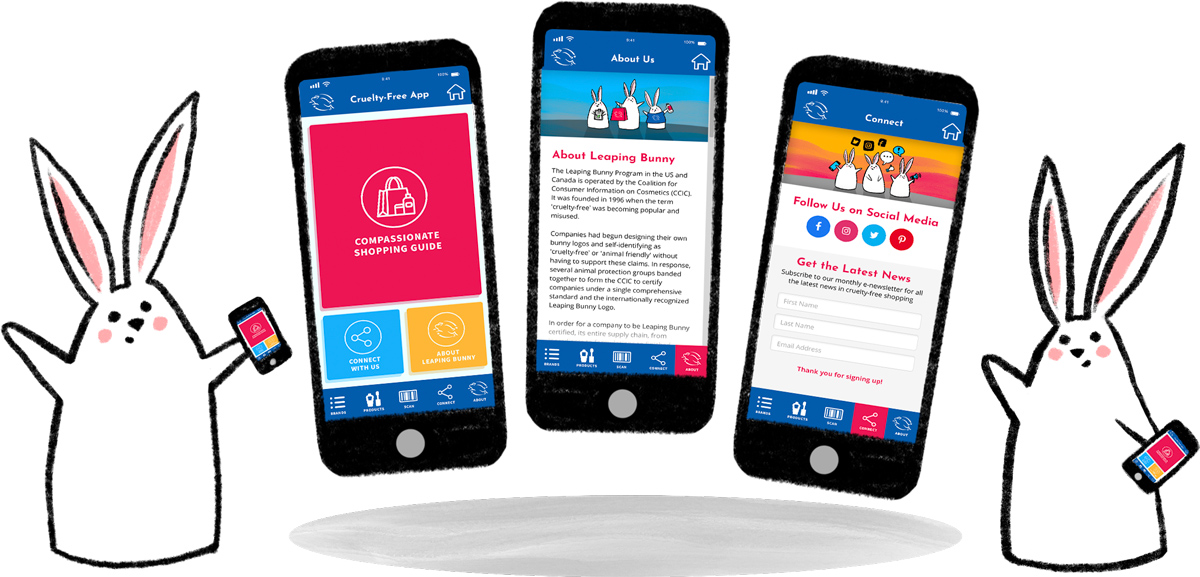 It's updated daily with our complete list of 2300+ companies and it's completely free! We've created iPhone and Android versions and they are available for download in the App Store and Google Play respectively.
Features
Company data automatically updated every day
Search by company name or product type
Scan a product's UPC code to see if it's certified
Click on these links below to download and install. Important: for users of previous versions of our Cruelty Free App, you will need to download and install this new version since the update will not occur automatically. Stay tuned as we continue to roll out more features in the coming months!
---
New Companies
With so many companies being certified each month, we love seeing how inclusivity is continuing to gain more prominence. Check out our list of most recently approved brands, with a wide variety of cosmetics and personal care products to choose from!
BeautyStat
A cosmetic chemist founded, science-driven, and result focused skincare brand dedicated to providing the highest-quality and most effective beauty solutions for all skin types.
Cactii Skincare
Handmade skincare utilizing cactus for ultra hydration.
Christian Audette
High-performance cosmetics that are antioxidant rich, paraben-free, and inclusive.
Cosmic Ambiance
Skincare and personal care creating products with the intention of not only being good for you, but also for the environment.
Gin Amber Beauty
Esthetician-designed skincare.
Hale and Hush
Professional skincare line to focus exclusively on sensitive skin.
Jestaci
Skincare line formulated with plant derived ingredients that is sustainable, eco-friendly, and vegan-friendly.
Kari Gran
Eco-luxe skincare brand providing simple, elegant skincare that works for any age and any skin type.
Lorde + Belle
Consciously created skincare line created with superior science, quality, and potency for customers to experience safe, measurable results immediately.
Mi-el
Sustainable skincare infused with honey from the company's own bee farm in Canada.
NONIKO
Handcrafted, small batch skincare delivering products with natural, effective ingredients in sustainable packaging.
Skinwit
Feminine skincare brand that customizes collections according to women's age range, ethnicity, climate, and lifestyle.
Sorevna
Skincare line that helps restore the body's natural skin biome as well as gently removing calluses while delivering moisture.
Viking Beauty Secrets
Certified organic skincare manufactured in Northern Europe and utilizing Nordic superberries as ingredients.
Zen Organics
Non-toxic professional massage therapy and skincare products.
---
Company Spotlight: Ethique
This month, we are excited to interview Brianne West, the founder and CEO of Ethique. Ethique first caught our eyes a few years ago at CosmoProf North America for their individuality in providing water-free products, which included shampoo and conditioner bars. They have expanded quite a bit over the years and now offer a variety of body care, cosmetics, personal care, and even household products! We are so impressed with this company, and know you will be, too! Read below to learn more about the creation of the company, its admirable dedication to sustainability, and a totally feel-good fact at the end.
What was the inspiration behind the creation of Ethique?
I believe that the way to create long-lasting, positive change is through business, but business done fairly, equitably, and sustainably. I have always had a passion for science and our environment, and learned that the beauty industry is horrifyingly wasteful, creating 120 billion units of packaging every year—the vast majority of which is never recycled (even if technically recyclable). I created Ethique to displace plastic bottles with solid beauty bars in home-compostable packaging, but also operate as ethically, sustainably, and as fairly as possible—raising the bar for the entire industry.
What is Ethique's mission?
Our mission is to regenerate our world, through packaging, products, and practices that give back more than they take. By this, I mean we put people and planet first, rather than profit.

With your help, we want to raise the bar for beauty by putting people and planet first. All our bars—from shampoo and conditioner to facial cleanser, creams, and moisturizers and even cosmetics—are plastic-free, climate-positive, palm oil-free, cruelty-free, and vegan. And we hold ourselves to a high standard on the ingredients we choose, too. We always prioritize directly and fairly traded ingredients, sustainably sourced, so the people behind our bars can thrive too, and we hope the rest of the industry follows suit.
Is there a story behind the name of your company?
We used to be called Sorbet. (Give our classic shampoos a good sniff and it will become obvious why—from citrusy St Clements and zingy Mintasy to creamy, coconutty Frizz Wrangler, they do all smell good enough to eat.) Truth be told we were renamed Ethique in a last-minute panic after we discovered the name 'Sorbet' was already taken. Luckily, we love it and it's still with us all these years on.
Your packaging is so fun! What was the inspiration behind your branding?
Ethique has been bright colors since 2015, when most of the sustainable stuff out there was kraft cardboard and green. The idea was to create a company that showed that green brands could also create fun, vibrant, effective products that you feel excited to have in your shower or dressing table. It doesn't have to be one or the other.
What efforts do you take to be a sustainable company?
As well as our commitment to vegan, cruelty-free, and palm-oil-free formulations, and our packaging that gives nutrients back to the earth when disposed in home-compost or buried in the ground, we try to put sustainability and regeneration at the heart of all our decisions.

When we're selecting ingredients, we prioritize direct trade. Working directly with our suppliers means they can be sure of a fair wage and income year-round, giving them the confidence to invest in new techniques and technology.

We're climate positive, but we don't rely on tree-planting to offset our emissions. We conduct an annual audit of our carbon footprint with EKOS and make a plan to eliminate whatever emissions we can the next year. As a result, we were able to reduce our emissions by 60% between 2018 – 2020, even as the company grew.

One of the most important things we do is hold ourselves to an incredibly high standard for product performance. If it won't hold its own against the leading equivalent, we keep working on our formulation until it does. Eco-friendly and plastic-free products can only truly help change the game if they're so good that consumers don't feel like they're giving anything up. That's our goal with every new product we create. We only create stuff that will displace a wasteful product, and we try to ensure our products can be multi-purpose, so people don't need lots of different stuff.
What is your favorite Ethique product and why?
It varies from week to week, but Pinkalicious is still the closest to my heart! Can't beat the new lippies though, in Poppy, of course.
What is Ethique's most popular product?
Lots of people absolutely love our shampoo bars. We fondly call them our 'gateway bars' to a more sustainable lifestyle. We have options for pretty much every hair type from balanced to dry, oily, or color-treated, but when we launched our curl range (Professor Curl and Curliosity) last summer, it shot to the top of our bestsellers. Our new range of vegan, home-compostable lipsticks are pretty well loved as well!
What has been the most rewarding part of creating/being a part of Ethique?
When I first started Ethique ten years ago, solid beauty bars were not a big thing at all. There were some options for hair and body, but they were hard to find—definitely not on beauty store shelves—and had a bit of a rubbish reputation as far as their performance went.

It has been so rewarding to see the tide turn over the past decade. Solid beauty bars have come so far in terms of what's offered (we offer shampoo and conditioner, solid face washes, solid moisturizers, deodorants, lip balms, you name it!). People are giving it a go and discovering that switching to solid doesn't have to mean compromising on performance.

It's not at all unusual to see a whole shelf in a beauty store now – and that is so, so good to see. We can't change the world on our own, so the more, the merrier! I just wish they would take on some of our other values too, like the climate positive stance, and transparent supply chains.
Are all of Ethique's products vegan?
Sure enough! And cruelty-free and palm oil-free, too.
Why is being Leaping Bunny certified important to Ethique?
Being kind to the living creatures around us has been part of our DNA from day one, so all our products are vegan and cruelty-free (and palm oil-free). But the Leaping Bunny certification is particularly important to us because it holds companies to such a high standard. The more businesses operate at this high standard, the better for our planet.
What is something unique about Ethique that others may not know?
In just under ten years, we've saved 20 million plastic containers from landfills, and we have a goal of 500 million (half a billion!) by 2030.
---