How Companies Go Beyond Cruelty-Free
---
Waste Not, Want All
No matter where you look, single-use plastic packaging is everywhere, and personal care and household products are some of the biggest culprits. While the Leaping Bunny Program does not take packaging into account during its certification process, we want to highlight a few companies who are going the extra mile to help mitigate the issue.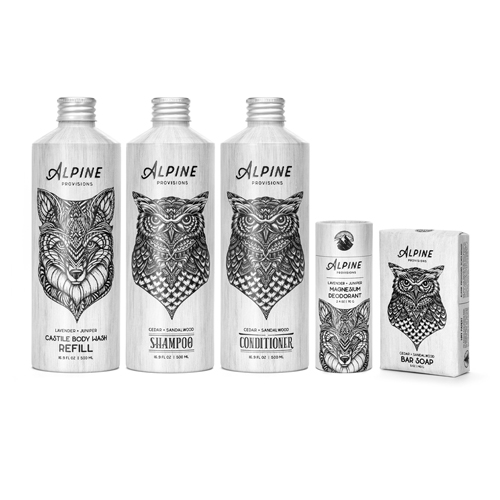 Alpine Provisions
Every single product from Alpine Provisions is free of plastic! The company makes a wide range of products from body wash to shampoo/conditioner to soaps and, of course, hand sanitizer. All products are vegan and organic. We have been loving the Vetiver + Sage shampoo and conditioner, from its gender-neutral scent to the high-quality ingredients. Their highly concentrated body wash is also fantastic. Once empty, the aluminum containers can be easily recycled; in fact, according to the company's website, 84% of all the aluminum ever made is still in use today! -Kim
HiBar
Although I love a good bar of soap, it never occurred to me until recently that shampoo and conditioner could take the form of a solid, as well. I was a bit skeptical of shampoo and conditioner bars, wondering if they could achieve the same amount of lather, cleansing, and moisturizing as their liquid rivals. After using HiBAR's Moisturizing set, it's official: I am a convert. The duo does indeed thoroughly cleanse my hair while also giving my dry strands the level of hydration it requires. Not only do I love how my hair feels after using these products, but it also smells super fresh with a light citrus scent. Since the product and packaging is plastic-free, it is super easy to recycle the paper box and wrapping. Additionally, the shampoo and conditioner are sulfate-, paraben-, silicone-, and phthalate-free. Depending on your hair-type and preferences, there are a variety of options to choose from: Fragrance-Free, Maintain, Moisturize, Soothe, and Volumize. HiBAR is definitely doing its part to remove single-use packaging from the shampoo/conditioner space and we appreciate their efforts! -Caitlin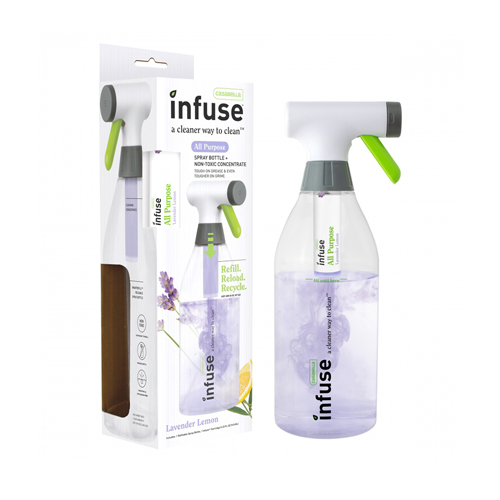 Casabella Infuse
Household cleaners are by far some of the worst offenders of packaging. Almost every product nowadays comes in plastic containers that may or may not be recyclable. And those containers mostly contain water. So, when we had the opportunity to check out Casabella Infuse, we were so excited! Their incredibly unique system uses cartridges of concentrates that you mix with water to create your cleaning solution. They have formulas for multi-surface floors, wood floors, all-purpose cleaners, and a glass & window cleaner. When you need a refill, simply order more cartridges! Their cleansers are eco-friendly and free of harsh ingredients, and they are sure to make every nook and cranny of your home clean! -Kim
Life Elements
There are so many things to love about Life Elements. This husband-wife duo creates simple, yet luxurious personal care products formulated with ingredients you recognize and can pronounce. Co-owner and formulator, Martha, got her start in alchemy and making herbal salves while growing up in Mexico. Her roots shine through in her products today, which are created with ethically and sustainably sourced ingredients. One of our favorite aspects of Life Elements is its Refillable Collection for products, including face wash, CBD body lotion, and sugar scrub. We also love the easily recyclable paper and glass packaging used for the majority of their products. One of our new favorite Life Elements products is the Orange Menthol Shower Steamer. It totally transforms your everyday shower to a spa-like experience that opens up your sinuses while leaving you feeling alert and transformed. The shower steamer is currently available for preorder here. -Caitlin
---
New Companies
With our ever-growing list of companies making the commitment to be cruelty-free, we continue to appreciate brand innovations, new formulations, and clever branding, which helps to distinguish each company. Check out some of our most recently certified brands below and be sure to click on their links to learn more about their products and what makes them one of a kind.
Apo Ge
Personal care product utilizing honey and hemp in handcrafted formulations reflective of Old World knowledge and traditions.
Clean Rebellion
Bath and body products made from simple ingredients including castile soap, olive oil, and plant-based extracts.
Elina Organics
Skin and body care products formulated by an award-winning cosmetic chemist and aesthetician.
Habitat Botanicals
Plant-based personal care products packaged and shipped in plastic-free containers.
Jolie Vegan
10-free nail polish available in a variety of pinks, reds, and neutral colors.
Lawless Beauty
Color cosmetics free of carbon black, lead, mineral oil, parabens, PEGs, siloxanes, sulfates, synthetic fragrance, and talc.
LOUMI Skincare
Everyday skincare products made with hemp-derived CBD and botanicals.
Megababe
Handcrafted personal care products formulated with organic and therapeutic ingredients.
Moana Cosmetics
Filipina-owned cosmetic brand offering luxe, affordable products.
Outlaw
Soap and personal care products offered in a variety of scents to evoke the outdoors including campfire, fresh cut grass, laundry, and pine forest.
Real Raw
Smoothies, or shampoothies, for your hair, formulated with 100% pure aloe juice, coconut water, yogurt, and cold-pressed natural ingredients.
Riddle Oil Corp
Luxury fragrance oil and skincare brand inspired to make people feel more confident through their scent and formulated for a variety of occasions.
Rossario George
Lifestyle brand offering a variety of cosmetics.
Sage Work Organics
Family-owned business offering a variety of small batch, hand-crafted personal care products including body butter, soap, and sugar scrub.
Sahara Rose
Plant-based skincare products formulated as an indulgence for busy women with ingredients like ruby crystals, desert rose petals, chamomile, and calendula.
Stila Cosmetics
Innovative, artistry-proven cosmetics with wide distribution and brand name awareness.
The Lab Girl & Co
Hair care brand inspired by modern and power-loving women who like to take care of their hair but also struggle with it every day.
---
Company Spotlight: Casabella Infuse
This month, we are excited to interview Jennifer Potter, Brand Marketing and Reputation Manager behind the brand Casabella Infuse. As you may have guessed from our review in our Waste Not, Want All section of this month's enews, we are totally smitten with Infuse and its line of innovative, eco-friendly household products. Please read below to learn more about the history behind the company, its innovative and multi-functional products, and its laudable strides to be a sustainable business.
What was the inspiration behind the creation of Casabella Infuse?
Infuse was first envisioned by Bruce Kaminstein, former owner of Casabella, in 2016. He was on the hunt for multi-surface cleaning liquids that were ready-made, non-toxic, and reduced single-use plastic waste. His goal was simple: bring to market cleaning liquids that were good for your home and our Earth with the strength to deep clean. So he got to thinking…why not develop a complete system of reusable tools and pocket-sized cleaning concentrates to offer a truly non-toxic, eco-conscious way to clean? And then the Casabella team got to work on Infuse.
What is Casabella Infuse's mission?
The mission of Casabella Infuse is to provide a comprehensive, concentrated cleaning system designed to save money, reduce waste, and provide an effective way to clean every surface of your home that is pet-safe and kid-safe.
According to your website, Casabella has been in business since 1988. How did the business start and how has it evolved?
In 1988, Bruce fell in love with an Italian mop at an international home & garden show in Italy. He knew that his customers would appreciate the quality and beauty of this well-crafted mop. He ordered a full container load and had them shipped back to New York where he planned to sell them in his family's hardware store.
Due to the success of the Italian mop, Bruce set out on a mission to create well-designed cleaning tools that looked as beautiful as they performed. He built a team of talented designers and started Casabella, a name inspired by the auspicious trip that started it all. This mop is now known as the Original Bee Mop and was the start of providing not only functional but beautifully designed cleaning tools.
We are still striving to bring function and beauty into homes through cleaning but now more eco-consciously!
What efforts do you take to be a sustainable company?
Our corporate office is approximately 1 million square feet and has 2.3 acres of green belt surrounding it. Because of this, we implemented several eco-efficient strategies. To reduce our water use, we worked with the City of Rancho Cucamonga to implement a new irrigation system that uses reclaimed water on the green belt. This system not only reduced our water costs, but also reduced our impact on the city's water supply—an important issue for Southern California, particularly during drought seasons. In our warehouse, our storage racks are under skylights to provide natural lighting in the work areas. Each warehouse aisle also has its own set of lights that are activated by human motion and turned off when the sensor detects no movement. This cut our energy usage by 44 percent. We have also gone 100 percent paperless in our warehouse and offices by eliminating paper printing for work orders, packing slips, invoices, and more. Finally, we have continued to recycle our packing materials where we recycle approximately 1,000 tons of cardboard each year.
What is your favorite Casabella Infuse product and why?
My favorite Casabella Infuse product is the Multi-Surface Spray Mop because not only is it compact and sleek but it uses a washable and reusable mop pad. I feel better about mopping since I'm not constantly throwing mop pads out. I'm also able to use tap water to fill the mop along with the Infuse Cleaning Concentrate so I'm not storing and discarding large plastic containers of cleaning solution. And better yet, no batteries are required to operate it like other quick-clean solutions.
What is Casabella Infuse's most popular product? What is the most popular scent?
The most popular product is the Infuse All-Purpose Spray Bottle Cleaning Kit which also uses the most popular scent Lavender Lemon. Like the mop, the spray bottle uses the cleaning concentrate cartridges and can be reused over and over again saving 400 bottles of plastic waste.
What has been the most rewarding part of being part of Casabella Infuse?
What's rewarding about Casabella Infuse is that we're helping to reduce plastic waste along with promoting single-use cleaning cloths, while providing a deep non-toxic clean in the home. The line is so beautifully designed and the cleaning fragrances are so calming.
Are all of Casabella Infuse products vegan?
While our products are not certified vegan, we have verified our cleaners are not derived from animal byproducts or tested on animals.
Why is being Leaping Bunny certified important to Casabella Infuse?
Leaping Bunny certification is important because it validates that our non-toxic cleaning concentrate formulas adhere to the strictest standards.
What is something unique about Casabella Infuse that others may not know?
What is unique about Casabella Infuse is the hassle-free cleaning system for every surface – from floors to windows, mirrors to countertops – that makes it easier to be easier on the planet. It's designed to clean beautifully while saving money, with reusability and reducing plastic and waste in mind. So, your home is cleaner, with a smaller environmental footprint. It's a cleaner way to clean.
---