Flower Power
With summer officially in swing, we thought we'd take you on a trip to the farm—Farm to Face, that is. This month the spotlight is on the power of plants taken right from their source. Discover what wild harvesting is. Learn about Moon Valley Organics, a company that truly embodies the harmony between nature and skincare ethos. And finally, find out how you can help end animal testing in five minutes or less.
---
Farm to Face beauty faves
Farm-to-face beauty means different things to different people, but generally speaking, you can expect ingredients to be locally grown for optimal freshness, workers to be paid a fair wage, and farming practices to be sustainable. Let's have a look at some different kinds of farm-to-face beauty products from Leaping Bunny certified companies. These are brands Leaping Bunny staff have personally tried and loved.
Alpyn Beauty Triple Vitamin C Brightening Bounce Cream Moisturizer
Wild harvesting is at the very core of Alpyn Beauty's ethos. Their entire range of skincare products contains wild plants like sage, nettle, and willow bark, which are sustainably foraged from nature near Jackson Hole, Wyoming. It turns out that plants in this area possess incredible survival strategies from successfully propagating in an ever-changing climate. Their potency, combined with clinical formulations, result in a powerhouse skincare line. Our current obsession is the Triple Vitamin C Brightening Bounce Cream Moisturizer, a lovely light gel cream that consists of 50% aloe, an incredible moisturizer, three variations of Vitamin C, and wild chokecherry, which brightens and tightens skin. In addition to mindfully harvesting plants in their natural setting, Alpyn Beauty also donates a portion of every purchase to Grand Teton National Park's initiative to restore over 5,000 acres of native grassland. – Kim
Juice Beauty Phyto-Pigments Liquid Lip
It's all about the "Farm to Table" concept these days, but that doesn't exclude your vanity table! Juice Beauty is proof that this approach expands past the wine and desserts. The brand uses flowers and fruits that grow on their Healdsburg, California farm to create makeup, skincare, and haircare products. The Phyto-Pigments Liquid Lip in the color, Blythe, is a favorite of mine. I've always been drawn to pinky-mauve shades with brown undertones, so I immediately gravitated to it. I love how the consistency isn't sticky, and the color isn't too overpowering for my complexion. The phyto-pigments are plant-derived, made from organic botanical juices, waxes, and powders, and sustainably packaged. And, all of Juice's lab and distribution work is done close by. This is certainly a healthy harvest of beauty! – Maria
Moon Mother Hemp CBD Renew Eye Serum
From seed to skin is literally what Moon Mother Hemp is all about. Their 14-acre USDA organic certified farm in Boulder, Colorado has been growing hemp sustainably since 2017. They oversee everything from planting seeds to harvesting crops to ensure the highest quality output. In addition, the founder, a certified clinical herbalist, has thoughtfully developed both a topical line of balms for humans and pets and a skincare line by incorporating their harvest into natural, organic formulations. The CBD Renew Eye Serum is one of our longtime favorites. It comes in a super handy roll-on applicator for easy application and the product itself reduces puffiness and rejuvenates the under-eye area. – Kim
---
Take 5 minutes to help end animal testing on cosmetics!
Life is busy; we get it! But who doesn't have five minutes to help end animal testing? Instead of scrolling your social media feed (unless it's the Leaping Bunny pages, of course), here are three things you can do right now to help end animal testing on cosmetics:
Download our Cruelty-Free app for iPhones and Androids (it's free!) to get the most up-to-date cruelty-free list at your fingertips for the next time you shop. Our list of certified companies is updated daily and you can even scan a product's UPC code to see if it's from a certified brand.
Use our newly revised sample text to send a message to a favorite brand that isn't certified. Copy and paste into a company's DMs.
Subscribe to our YouTube channel so you'll always see the latest shorts, like the one above, as soon as they're posted.
---
Download our new Cruelty Free Shopping Guide App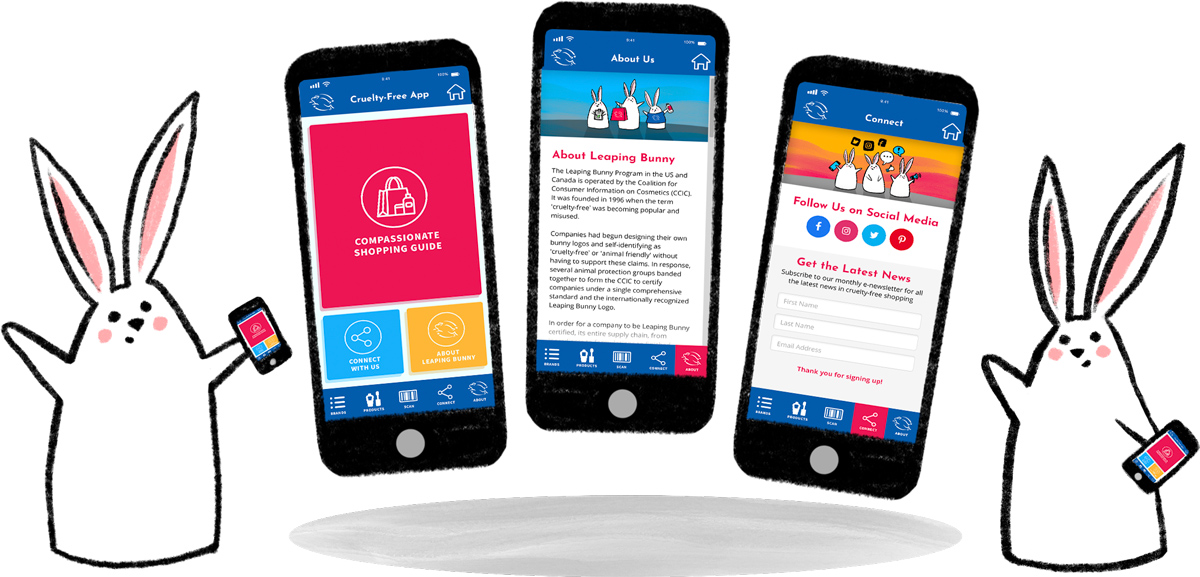 It's updated daily with our complete list of 2,400+ companies and it's completely free! We've created iPhone and Android versions and they are available for download in the App Store and Google Play respectively.
Features
Company data automatically updated every day
Search by company name or product type
Scan a product's UPC code to see if it's certified
Click on these links below to download and install. Important: for users of previous versions of our Cruelty Free App, you will need to download and install this new version since the update will not occur automatically. Stay tuned as we continue to roll out more features in the coming months!
---
New Companies
There is no shortage of companies utilizing hand harvested, botanicals and plants in this batch. From skincare, body care, and even cosmetics, these companies are making it so easy to get back to Earth's bounty.
Annà Museo
Skincare serums infused with potent, nutrient-rich botanicals for both day and night.
Ayurblooms
Personal care products utilizing ingredients that encourage sustainability and environmental conservation.
Barnes Made
Artisan soaps handcrafted in Vermont and formulated without palm oil, petrochemicals, or phthalates.
Dermoia
Eczema relief products formulated with recognizable ingredients that help replenish skin cells.
Elodie's Naturals
Pure and effective skincare with minimal ingredients from France.
Good Medicine Beauty Lab
Small batch, hand harvested superfood skincare fresh from the Southwest desert.
Hebe Organic Skincare
Inspired by a passion to research safe skincare while pregnant and incorporating the founder's Albanian roots, this minimalist brand was brought to life.
Kennedi Madison
Vegan, fragrance-free cosmetics that result in hydrated, moisturized, radiant skin.
Ladoni Kind Beauty
Intentionally formulated skincare essentials using premium, nutrient rich botanicals and clinically-proven ingredients.
Mad Rabbit
Tattoo aftercare products.
Poppy Botanicals
Herbal skincare company that aims to educate and empower through the healing intelligence of plants.
reHEMP
Simple, minimally processed plant ingredients utilized to make effective skincare.
RKT Hair Care
Pronounced Rock-It, naturally formulated haircare for healthy hair growth.
Sycrece's Beauty
Non-toxic skincare and makeup that is affordable, effective, and inclusive for all skin types.
Winnow Skincare
Luxury face cream that pairs broad spectrum CBD with a blend of hyaluronic and amino acids, niacinamide, and shea butter.
YSE Beauty
Skincare line founded by Molly Sims.
---
Company Spotlight: Moon Valley Organics
This month, we are happy to interview Kim and Aaron Otto, founders of Moon Valley Organics. Moon Valley Organics has been a long-time Leaping Bunny certified company, and we have always loved its homegrown roots. Read below to learn more about the inspiration in creating Moon Valley Organics, its sustainability practices, and more.
What was the inspiration behind the creation of Moon Valley Organics?
The inspiration behind Moon Valley Organics took root in our deep reverence for the natural world and its remarkable ability to nourish and heal. It's also a wonderful opportunity for us to indulge in our love for nature, spend time with our family, and do what we truly enjoy – playing in the dirt.
What is Moon Valley Organics' mission?
Our mission at Moon Valley Organics is to harness the potent vitality of organic botanicals to cultivate healthy skin and foster a deeper connection with nature.
Is there a story behind the name of your company?
The name "Moon Valley Organics" reflects the enchanting harmony found in the valleys where the moon's gentle glow illuminates vibrant, organic life.
What efforts do you take to be a sustainable company?
Our unwavering commitment to organic agriculture, sustainable packaging, and supporting ecosystems for our pollinators drives our every action. From nurturing organic farms to using renewable, recyclable, and compostable packaging, we strive to create a greener and healthier future.
What is your favorite Moon Valley Organics product and why?
Among our cherished offerings, our Lotion Bar envelops your skin with a velvety embrace, deeply nourishing and hydrating every inch. Immerse yourself in the luxurious blend of botanical wonders, carefully crafted to revitalize and restore your skin's natural radiance.
What is Moon Valley Organics' most popular product?
The Herbal Lip Balm has become a beloved choice among our community, nourishing lips with the essence of botanical wonders. Its silky glide leaves lips soft, supple, and infused with nature's tender care.
What has been the most rewarding part of creating for Moon Valley Organics?
The most rewarding part of creating and working for Moon Valley Organics has been the transformative experience of learning to love and be in love, embracing gratitude for all aspects of life and growth, both personally and in business.
What has been the most surprising part of creating for Moon Valley Organics?
We are grateful for the unwavering support and enthusiasm from our community, whose love for our products has fueled our growth. Your feedback and experiences have guided us in learning to love better and grow.
Why is being Leaping Bunny certified important to Moon Valley Organics?
Being Leaping Bunny certified symbolizes our dedication to cruelty-free practices and our commitment to the delicate nature of the interconnectedness between humans, nature, and pollinators.
What is something unique about Moon Valley Organics that others may not know?
At Moon Valley Organics, we strive to create a sustainable legacy, embracing eco-friendly packaging and nurturing the delicate balance between nature and skincare.
---