Announcing our NEW China Qualification Program
Much like a trick-or-treat sack, this month is a mixed bag with some very good news. We are excited to announce The Leaping Bunny China Qualification Program, which we have been working on behind the scenes for a long time to ensure that our Leaping Bunny certified companies can safely sell in China without animal testing. To find out more exactly how we will do this, read on. And since it's edging closer to winter each day, we know that the chillier weather can take quite the toll on skin, so we compiled our fave face oils to keep your complexion plump and hydrated during the colder months. Plus, don't miss our interview at the end with the founder of inspiring makeup brand, Bossy Cosmetics!
---
Glowing skin, courtesy of face oils
As we write this enewsletter, the weather has officially gotten the memo that it is autumn in the Northeast. So it's no surprise our facial skin is already feeling parched. Luckily, at the Leaping Bunny HQ, we have been busy testing out face oils so we can give you the scoop on some of our faves. Read on to learn about the products that have quickly become staples in our daily routine.
Empress Naturals Luxe Night Elixir
No one wants to get old, or at least LOOK old, right? Empress Naturals Luxe Night Elixir can help with exactly that. It's loaded with a fabulous blend of natural ingredients including sunflower oil to lessen signs of premature aging; geranium oil to promote vibrance; and Vitamin E acetate to help with damage from UV exposure. After applying for a few weeks at bedtime, I noticed a lightening of dark spots, minimizing of pores, and an overall, more evened-out look. Love how those new cells are being uncovered for a more rejuvenated appearance! Taking care of your face with quality products like the Luxe Night Elixir proves you're only growing wiser, not older! – Maria
LULA Potion Serum
My night time skincare routine has had a pretty spectacular glow up ever since I started using LULA's Potion Serum. This elixir is the stuff of magic thanks to its 14 botanicals, including broad spectrum hemp extract, evening primrose oil, sea buckthorn oil, and grapeseed oil. Just a few luscious drops are all that's needed. It absorbs quickly and is surprisingly not greasy, despite being oil-based. It also smells absolutely amazing. If I want to take things to the next level, I slather on LULA's Beyond Balm afterwards. It's a deeply nourishing balm that literally melts into my skin, locking in the moisturizing, calming goodness of the serum. The result: smooth, hydrated, glowing skin in the morning thanks to the powerful ingredients that were hard at work while I was sleeping – Kim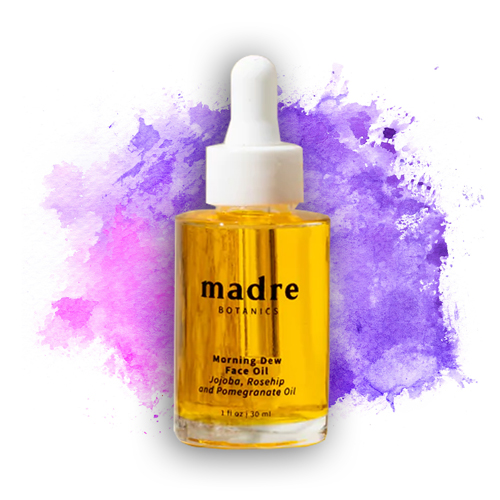 Madre Botanics Organic Morning Dew Face Oil
As a lady who deals with dry skin year-round, one thing I've learned is how important it is to find a high quality facial oil to use on the daily. Madre Botanics Morning Dew Face Oil has been my go-to lately, and for so many reasons. There is nothing better than reading an ingredient list and recognizing every single name, and this face oil provides that exact comfort: from rosehip and argan oils, to baobab and pistachio oils, the ingredients are 100% fruit and nut oils. Applying this oil every morning leaves my skin is left super smooth, hydrated, and nourished for the day. Bonus points for this brand being a woman-owned, woman-formulated business with recyclable packaging! – Caitlin
---
Breaking News: The Leaping Bunny China Qualification Program Launches
In the past, selling cosmetics in China has been problematic for cruelty-free companies because of China's strict animal testing policies. In fact, companies selling in China (outside of certain online sales which, for now, may be done without animal testing) have not been able to be Leaping Bunny certified because of testing regulations that required the use of animals.
But all of that is about to change! Recent updates to Chinese regulatory requirements now make it possible, under specific circumstances, for brands to register to sell domestically in China and avoid animal testing and be Leaping Bunny certified. In fact, we have successfully gone through the process with one of our companies and are happy to report that our system, based on a thorough pre-market audit, works! Read on to see which company it is.
After careful consideration and planning, we are excited to announce the launch of the Leaping Bunny China Qualification Program to help current Leaping Bunny certified companies enter the Chinese marketplace while remaining in compliance with our cruelty-free Standard. To accomplish this, Leaping Bunny is partnering with trusted regulatory experts Knudsen&CRC, based in Shanghai, China, to ensure a company's registration dossier does not include animal testing, along with post-market monitoring after sales commence.
Leaping Bunny certified companies wishing to qualify for the program will need to meet extensive criteria in order to embark on the process and will continue to have enhanced reporting to our team even once approved. Importantly, they will need to successfully complete both a Pre-Market Audit and a series of Post-Market Audits, conducted by Knudsen&CRC. Audit results, while confidential, are fully disclosed to Leaping Bunny administrators. Further, companies are required to sign an agreement promising to recall products rather than allow any animal testing, should the Chinese government require it for some reason. We are excited to announce that Burt's Bees has successfully completed all of the requirements of the Leaping Bunny China Qualification Program with the launch of their lip balms into the domestic Chinese marketplace—without animal testing.
So, while the process to enter China remains a complicated one, it is exciting to see this market evolve to include cruelty-free companies. The Leaping Bunny China Qualification Program will provide assurance to compassionate consumers everywhere that products certified by us are free of new animal testing and produced by companies committed to cruelty-free products.
---
Download our new Cruelty Free Shopping Guide App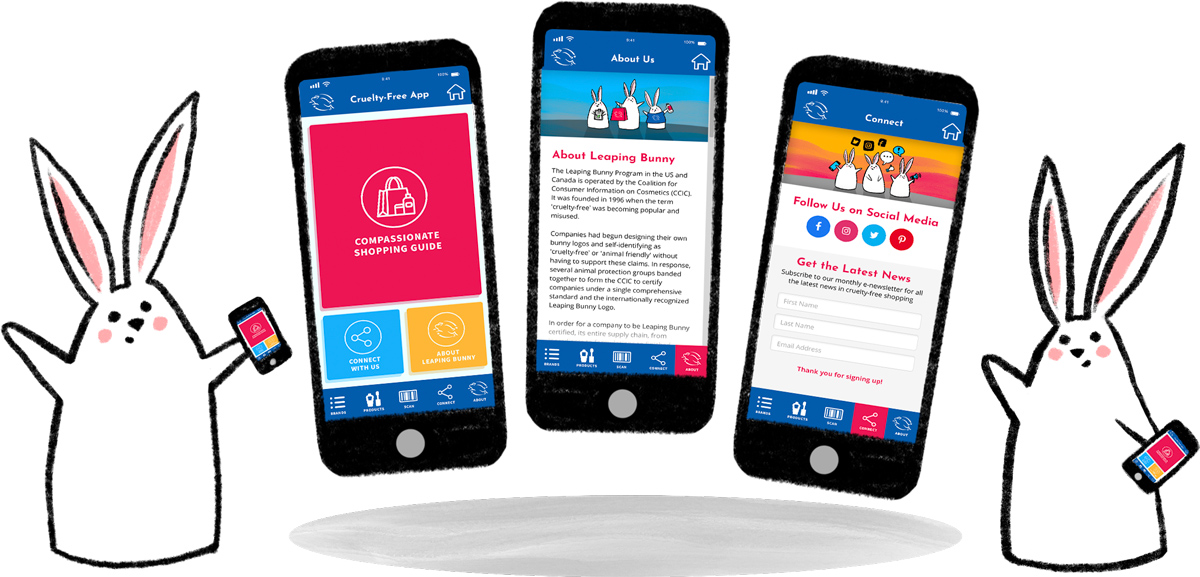 It's updated daily with our complete list of 2,400+ companies and it's completely free! We've created iPhone and Android versions and they are available for download in the App Store and Google Play respectively.
Features
Company data automatically updated every day
Search by company name or product type
Scan a product's UPC code to see if it's certified
Click on these links below to download and install. Important: for users of previous versions of our Cruelty Free App, you will need to download and install this new version since the update will not occur automatically. Stay tuned as we continue to roll out more features in the coming months!
---
New Companies
This month's selection is guaranteed to provide a wide array of botanical skincare for your choosing. From CBD-infused to wild-crafted herbs, these companies are creating one-of-a-kind products that are both innovative and cruelty-free. Check out our complete list of products below and be sure to click on their links to learn more.
BZ Lady
Canadian nail care brand offering polishes that are vegan, free of 27 toxic ingredients found in traditional nail polishes, and the promise of drying quickly and being long lasting; perfect for busy women on the run!
Cannaphyll®
Hemp-based topical products that deliver powerful and effective results to a broad spectrum of conditions affecting skin, muscles, nerves, and joints.
Dr Alkaitis Organics
Skincare formulated with organic, biodynamic, and wild-crafted herbs, plants, seeds, sea vegetables, and oils in their raw state to create "raw skin food."
Figaro Apothecary
Luxury wellness brand harnessing the healing properties of nature through premium and potent organic botanicals.
Flexpower
Fragrance-free pain relieving, restorative back and body products.
Hand Over Heart
Family and baby care brand dedicated to providing safe, effective, nourishing products.
KA & Riah
Ecologically sustainable brand focused on providing quality skincare at affordable prices.
La Florelle
Brand utilizing the best of U.S. and Korean skincare technology to deliver the highest quality products with clear results.
Odele
Salon-grade hair care for all genders and hair types.
Omayma
Brand harnessing the power of North African and Middle Eastern botanics to deliver clean, conscious, cruelty-free radiance.
Pure Dharma
CBD infused plant-based skincare line utilizing nano-emulsion CBD process to bring out your "Elevated Wellness."
RALLY
Plant-powered skincare essentials for the demanding teen lifestyle.
Tiffany Bath & Body
Personal care products created to make others happy through relaxation, rejuvenation, and pampering.
Way Natural
All-natural soap and skincare products handcrafted from premium quality goat milk.
---
Company Spotlight: Bossy Cosmetics
This month, we are excited to interview Aishetu Fatima Dozie, Founder and Chief Executive of Bossy Cosmetics. We greatly admire this brand's story, and we know you will, too! Read below to learn more about Aishetu's drive and inspiration to create this powerhouse cosmetics company.
What was the inspiration behind the creation of Bossy Cosmetics?
I wanted to create a global brand that didn't only focus on how women look but how they feel and choose to show up in the world. I was specifically interested in how women navigate their careers and lives to surpass their goals. I've always dealt with impostor syndrome and I want to create a deeply women-centered brand that looked at us beyond just our face. Looking good is great but feeling beautiful is far greater. I wanted to create a brand that understood how to connect women's looks with their ability to be high-performers.
What is Bossy Cosmetics' mission?
To empower women to look, feel, and do good in the world.
Is there a story behind the name of your company?
When I was young, I was always called bossy. I hated it because I knew that when I was called the name, I was really trying to make myself important to someone who didn't think I deserved to have a voice in that moment. As I grew older, I realized that women and girls are often called bossy in a scenario where a guy would be called a natural leader! I decided to flip the script and reclaim the name for myself and every girl that has ever been called bossy. We are natural leaders and are born to achieve our goals.
What is your favorite Bossy Cosmetics product and why?
It's impossible to pick one. They are each like my children! However, I have a special place in my heart for the color Ambitious because it really is the core philosophy of the company.
What is Bossy Cosmetics's most popular product?
Our hero product is definitely the Power Woman Essentials Bullet lipsticks. They are creamy, moisturizing, and powerfully pigmented. They are infused with watermelon seed oil so your lips feel nourished when you wear it! It was this collection that was selected as one of Oprah's Favorite Things in 2021.
What has been the most rewarding part of creating Bossy Cosmetics?
Nothing makes us happier when we hear feedback from customers about how they feel when they wear our products. The notion that we are partnering with our customers in their level-up journey is the most gratifying part of this work. We create these products to ignite confidence in women who self-identify as being ambitious. We love when we actually do that!
Are all of Bossy Cosmetics's products vegan?
Yes, they are.
Why is being Leaping Bunny certified important to Bossy Cosmetics?
Because we want our customers to know that from day one, being cruelty-free and vegan has been important to us. We understand that our customer is a conscious shopper and she has several options. Being certified is just one more step in informing our customers that we take being a clean brand seriously.
What is something unique about Bossy Cosmetics that others may not know?
When I started this brand, a lot of people told me that it was an idea that wasn't needed in the marketplace. Some of these people were friends and investors that I thought were smart. Thank goodness that I trusted my gut and invested in myself!
---