Who Recommitted in 2020?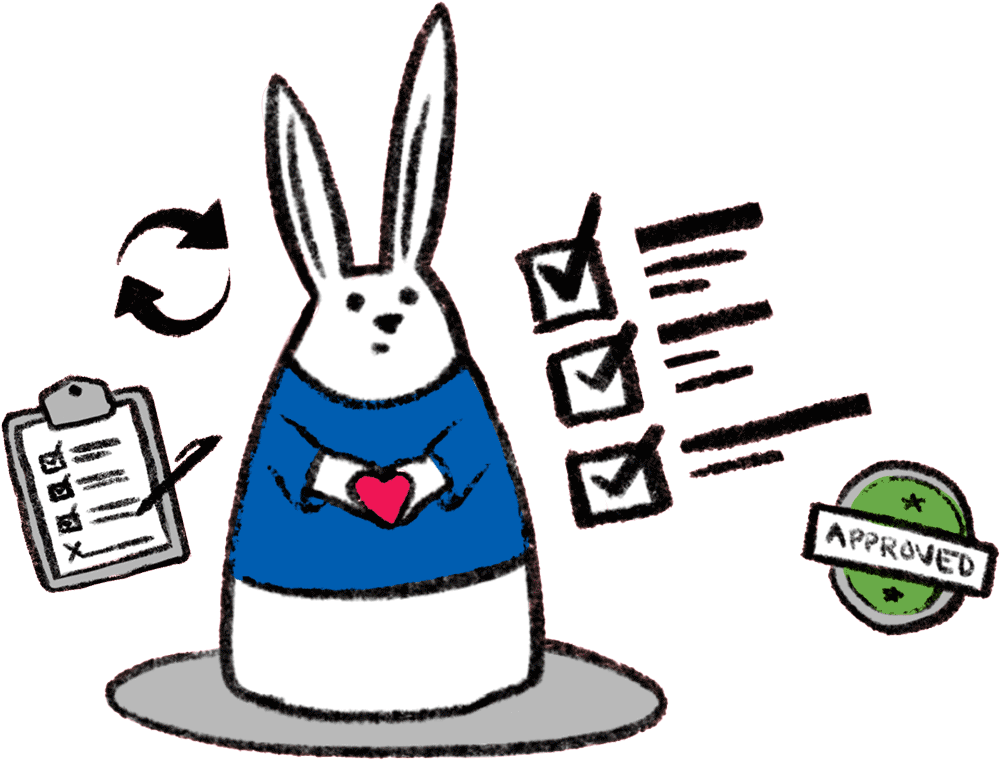 One key requirement that sets the Leaping Bunny Program apart from other cruelty-free certification programs is that companies must annually recommit to upholding their promise to not conduct animal testing on any finished products, ingredients, or formulations. Why do we require this? Because product formulations change, suppliers come and go, and manufacturers develop innovative lines to meet consumer needs. But we know that compassionate consumers need to be confident that no animal testing is involved in the products they use.
The list includes two categories of companies: those companies that have recommitted so far in 2020, and those that have not.
Please note, the recommitment process is rolling. This means that companies come up for recommitment on different dates and many are still in-process. Furthermore, some companies are certified by our European partner and would go through recommitment with them and wouldn't be listed here. Companies that have just joined the Leaping Bunny Program in 2020 will not be on this list because their recommitment will not be due until the next calendar year (2021).
The best place to see if a company IS still on our list is here.
Please note that companies are first listed by their official name, which may be different from the brand name you know. Use your browser's search functionality to search the page for a specific company if you can't find it alphabetically. For PCs use CTRL + F and for Macs use ⌘ + F.
We congratulate all the companies listed below who successfully went through the process and are grateful for their dedication to manufacturing products free of animal testing.
For those companies that elected not to recommit, we encourage you to contact them directly to ask them to rejoin the Leaping Bunny Program.
We hope this list will be helpful. Please keep in mind our business with companies is confidential so we are not able to disclose specifics about why a particular company has been removed. We will continue to update this list if there are any changes.
Companies that DID Recommit in 2020
Go to # | A | B | C | D | E | F | G | H | I | J | K | L | M | N | O | P | Q | R | S | T | U | V | W | X | Y | Z

#
---
4-Legger
180º Essentials SkinCare + Hair 180º
1908 Brands dba Boulder Clean
21 Drops Essential Oil Therapy
A
---
A Joy Forever Bath and Body
A to Z Candles
A Wild Soap Bar, LLC
A.M.Y. Belles Beauty
aavrani
Abby Rose Skin Care, LLC
AcARRE
adwoa beauty
Aegis, Inc dba CleanTint
Aether Auto
Aether Beauty Co
Airelle Skincare
Alchimie Forever
All Good
All Heart Cosmetics, LLC
Alpyn Beauty
Amazonia Skincare
Amber Budd Atelier, LLC
America College of Healthcare Sciences
Ametrine Organics
Amyris dba Biossance + Pipette
Ananda Blissful Rituals
Angie Watts
Annmarie Skin Care
Anointment Natural Skin Care Inc
Anokha Skin Care, LLC
ANTI PTY LTD
Apis Mercantile
Apple Valley Natural Soap
Aquareveal
Aquis
ARE Global Services dba NARI SKINCARE
Arianna Skincare
Aroma Crystal Therapy Ltd
Au Naturale Cosmetics, LLC
Au Naturel Botanicals
Aunt Fannie Inc
Avalea
Ayelet Cosmetics
180º Essentials SkinCare + Hair 180º
A Girl's Gotta Spa!
Alaska Glacial Mud Co
All Natural Advice
Ana Carttori Inc
Apothecary Products LLC dba Bamboobies
AveSeena
AYOND
ALTR Soaps
Asili Naturals
A Spa For You
acaderma inc
Alima Pure
Amber House, LLC
Anove
Apothepurity
Arilan Skincare
A La Maison de Provence LLC
Aim Hi Every Day
Andalou Naturals
Aramara Beauty LLC dba Glow Recipe + Sweet Chef
Auromere
B
---
BAABS Beauty
Babe Glaze, LLC
Babo Botanicals
Back to Basics Skincare
Baiser Beauty
Balanced Health Botanicals
Baleco Inc
basd body care
BB Lifestyle, LLC
Bcakes LLC
Beach Baby Bath & Body, Inc
Beard Care Club
Beautycounter
BeautyGARDE
Beekman 1802
Bel Essence
Bell Mountain Naturals
Bella Vida Santa Barbara
Bella's Soap Box and LuvBar
Belle Beauty
Berlin Skin, LLC
BETTER LIFE
BH Cosmetics, LLC
Black Dahlia Lacquer
Black Men's Beard, LLC dba Evan Alexander Grooming
Black Moon Cosmetics
Black Tie
Blissful Organix
Blocki
Bloomiss Naturals
Blu Ink Nail Lacquer
Bluebird Botanicals
BlushLips
Bocks Inc dba Cleancult
Body B Beautiful
BODY BY BELLA
Body Soup for the Soul
Booda Organics
Botanical Buzz
Brainiac Brands Inc dba Calm A Mama
Brianna's Handmade Soap
Briogeo Hair Care
Browluxe Inc
Brown Butterfly
Browtopia
Buck Naked Soap Company Inc
Burke & Hare Co
Burt's Bees, Inc
BVR Labs dba Just Glow
By Valenti Organics
Backend Beauty Inc dba Patika Pets
BaeBlu
Basic Earth Essentials
Be Fancy
Beauty by Earth
Beauty Partners LLC
Bedrock
bee maternal organics
Better Planet Brands, LLC dba ACURE
Bili Beauty
BIM Candle Mask LLC
bkr
Blue Monarch LLC
Botanie Natural Soap, Inc
Brand Creation Labs dba 10 Free Chemistry, Living Free, Kitten
Brooklyn Made Natural
Barefoot Scientist
Bartholomew Sisters
BE MOXE, LLC
Beautenotions LLC
Betula's Botanica
Bodacious 10 Cosmetics
Bold and Bare
Bronzo Sensuale
Brooklyn Health Works LLC dba Loving Naturals + Adorable Baby
Brushes by Karen, Inc
Bua Organics LLC
Base Coat Nail Salon
Be Solifiore LLC
Blue Stone Apothecary LLC
Body Be Silk LLC
Bogavia
Brickell Men's Products
Bubbly Moon Naturals, LLC
C
---
Cake Face Soaping
Caldera Lab, LLC
California Pure Naturals
Calm Coyote
Camellia Alise, LLC
Campo Beauty
Candy x Paints
CannaSmack
Captain Blankenship
Carlucce Inc
Carmindy Global LLC
Celestial Crystal Nails, LLC
Cellbone Technology
CGH Global dba Brooklyn & Bailey
Charlotte Cook Cosmetics
Cheekiesoaps
Chiki Buttah
Citrusway
City Beauty
Claude NYC, LLC dba Claudiana Beautanica
Cocofloss Inc
Comprehensive Cranium Care
Concrete Minerals
Cosmetics Without Synthetics, Inc
Cosmic Science
Costa Brazil
COUI Skincare
Coxistence Soaps, LLC
Crafted Bath
Crambe Skincare
CremeFRESH Skin and Health Inc
Cris's Blends
Cupid and Psyche Beauty
Curology
Cyan SkinCare LLC
Cannabliss Organic LLC
CAUSE+MEDIC
COSM Research
Clear Light New Mexico
Codex Beauty
Crate 61 Organics
Creation Skin
C and Co. All Natural Body Goods
Carolina Cosmetics
Carter + Jane
Christine Valmy Inc
Claropsyche Cosmetics
Crazy Rumors
Cruelty Free Girls
CRUNCHI
CALM Skin Care
Carpeli Personal Care, Inc
Casa Zeta-Jones, LLC
Chae Organics, Inc
Clarisea, Inc
Clean Kiss Inc
Clear Conscience
Coural Care
Courtney's Farm Charm Soap Company
D
---
Daisy Blue Naturals
Dab Herb Makeup and Skin Care
Damiva Inc
DANI Naturals
Dawes Custom Cosmetics
De La Terre Skincare
DermaCalmPE, LLC dba Sea Calm Skin
Dermalogica
DevaCurl
DeVita International, Inc
Diane Janowski Soap
Diane's Natural Solutions
Dimension Nails
Dione Cosmetics
Dollcake Skincare
Dose of Colors
Dr Loretta, LLC
Dr Woods Products
Dr.C Lab LLC dba Dr.C Lab + Dr. Soap + YOI
Drifter Organics
driftless skincare, llc
DrVita dba Paradise Springs
Drybar Holdings
Duckish Natural Skincare
DUOGREEN INC dba Avarelle
Daughter of the Land
Davids Natural Toothpaste
Discover Health Inc dba Active CBD Oil
Doggy Do Good
Dora Jean Cosmetics
Dunnock and Hinny
Dancing Dingo
Dolce & Lay LLC
Dr Bronner's Magic Soaps
Dabble & Dollop, LLC
Demes Natural Products Inc
DermaQuest Inc
Desert Essence
DEW MIGHTY
Dirty Lamb
DPR SKN, Inc
E
---
Earth Harbor Naturals
Earth's Offerings, LLC
Earthly Body, Inc
Eco Nuts
Ecology Soap, LLC
EI GLOBAL GROUP LLC dba EIG Personal Care, EXT, Maxxam
Elements of Aiel
Elevate Skincare Inc
Embeba Group Inc
Eminence Organic Skin Care
Essentiel by Adele
Etches Intl Inc dba No Worries
EVXO Cosmetics, LLC
Ezolistic, LLC
Eleve Cosmetics
Eluma Beauty Inc dba Elate Cosmetics
Elyptol Inc
Evolue and Lue by Jean Seo
Eco Lips
Eko Holdings LLC dba Saavy Naturals
ElevenTen Products
ELEWA
Endure Beauty
Era Organics
Essential Wholesale & Labs
F
---
Fabula Nebulae, LLC
FACE atelier
Farm Babe LLC
Farm Dog Naturals, LLC
FATCO
FiOR Mineral Cosmetics
Fitglow Beauty
Five Petals
Fivesso Coffee Soaps and Scrubs
Fleur & Bee
Flickable
FLOetic Beauty
Flora & Fauna
Flora Beauty, LLC dba Flora 1761
Flora's Bare Skincare Ltd
florapothecarie
For The Biome, LLC
Fountain of Health CBD
Foxbrim Naturals, LLC
Freck
Fresame Cosmetics
Fromonda, LLC
Frostaholics
Fyve, Inc
FanLoveBeauty
Force Multiplier dba Temiz
Feel Beauty Inc
Formulary 55
Frangipani Body Products
Friendsheep LLC
Frilliance
Fina Bueno Inc dba Healthy Hoohoo
FOOTNANNY
Forever Living Products
Free Brands Inc dba Freedom
G
---
Gaia Natural Cleaners
Gallany Cosmetics
Genial Day, Inc
Gentleman Farmer
GladRags
Global Organic Products LLC dba BLNCD Naturals + ELEMENT Elixirs
Glop & Glam Hair Products
Glossier, Inc
Goddess Garden
Golden Sky Naturals
Good For You Girls
Grace & Stella Inc
Green Envee
Green Tidings
Greenberry Eco Group, LLC
Gressa Skin
Groomer & George Organic Apothecary for Dogs
GS Beauty dba Cane + Bliss
GuruNanda, LLC
Grounded Sage Skincare
Global Beauty Science, Inc dba Avya Skincare
GCC Aesthetics Inc dba NassifMD Dermaceuticals
Go Selly Inc dba Glam Up
Greenology Products Inc
Grow Fragrance, Inc
Gryph & IvyRose
Genexa Inc
Gilchrist & Soames
Ginger & Waldo, LLC
Glam Natural Hair Co
Graydon Skincare
GrayLane Beauty
GreenSky Cosmetics
H
---
Hallowed Ground Essentials
Haoma
Happy Place
HAPPY SPRITZ
Hard Night Good Morning
Harmony + RE Botanicals
HATCH Collection
HBD Dist Inc dba Hustle Butter
Healium Hair Inc
Heat Makes Sense, Inc dba Amika + EVA-NYC + PYT
Heleka
Helena Lane Skincare Ltd
HENRYIA Beaute Essentielle
Her Mannerisms
Hims Inc
HOLIFROG
Honestly pHresh
Honeybee Gardens Inc
House of Lashes
Humanist Beauty
Humble Brands, Inc
Huna Skin Inc
Hanson Skincare
Health Naturally
HealthPro Brands Inc dba Fit Organic
Henna Color Lab
HiRuna Designs
HiQ Cosmetics
Hynt Beauty
Healthier Cleaning Innovations, LLC dba Force of Nature
Herbal Dynamics Beauty
Heritage Park Laundry Essentials
Holy Snails
Homemade Betty LLC
Hot Tot
Hurraw! Balm
HAN Skincare Cosmetics
Happy 2nd Birthday Inc
Health & Natural Beauty USA Corp dba Sprinjene
I
---
I M WALRUS SOAPS
IGK, LLC
ILIA Inc
Impakt Organic Skincare
Indie Lee & Co
Indigo Bath and Body, LLC
Infinite Earth
Ingredients Matter
Inkbox Tattoos
Innate Organic Body, LLC
Iredale Cosmetics
Ivy & Elder, LLC
I Luv It Natural Deodorant
I'M FABULOUS COSMETICS, INC
InstaNatural, LLC
Inspired Beauty Brands, Inc
Images by Miriam dba Immaculate Minerals + Anti-Aging
Inspired Sense
Intelligent Nutrients
J
---
J.R. Watkins
JD Media Network, LLC dba BioSphere Naturel
Jeffree Star Cosmetics
Jeffrey James Botanicals
JEJ Beauty Inc dba ESW Beauty
Jessy's Alchemy, LLC dba Adelle
Jkosmmune
Jmb Products, Inc dba NeedCrystals
Juice Beauty
Just Bubbly
Just Make Scents
Jade Lilly
Joanna Vargas Skincare LLC
Just the Goods Skin Care Ltd
K
---
Karla's Organic Beauty
Karmela Cosmetics, LLC
Keeki Pure and Simple + KPS Essentials
KET, LLC dba Peace on Po
Kett Cosmetics
Khakuun LLC
Kilted Suds
Kind Jo Organic Beauty Bar
KINDri Los Angeles
Kinfield
Kinship, Inc
KINX
KolorsbyK
Kosas Cosmetics
Kudarat Skincare
Kat's Naturals
Kavella LLC
Klo Organic Beauty
Kreations by Kay
Koils by Nature
KAPLANMD Inc
KINAPURE
Kirk's Natural + The Grandpa Soap Co + South of France
L
---
L'uvalla Certified Organic
La Ceiba Botanical Skincare
La Pharmacie d'invention
Lady V Lacquer
Lase Skincare
Lashes in a Box
LATHER, Inc
LAW Beauty Essentials Inc
Legendary Apothecary
Legends Creek Fram
Level Up Skin Care
LEYOS
Lines of Elan
Little Farmyard
Little Tree Hugger Soap
Liv'EZ Co
LME Enterprises dba Maker and Merchant
Love & Lotus Naturals
Lucia Botanica
lululemon
LUXE Heavenly Bodies
Laurme Skin Care
Leland Francis
Lotus Garden Botanicals
Luzern Labs
Lief Holdings, LLC dba SoulSpring CBD-Infused Botanical Therapy
Lilly Be, LLC
Little Moon Essentials
Little Seed Farm
LIZ CAROLINA SKIN CARE, LLC
Love Dirty, Inc
Love Hair
Lueur Naturelle LLC
Lab-Clean Inc
Lady Burgundy
LaPierre Cosmetics
Lifance Skin Care
Life Elements
Lime Crime
Lis Noir Skincare
Living Organically
Look Beauty Inc
LoveU Organics
Luna Nectar
Luna Oil Organics
M
---
Mad Hippie
Madam Glam
Madame Gabriela Beauty
MADE OF
MAHA Skin Therapy
Mahina Beaute
Makeup Artist's Choice, Inc
Mallie Boushaye Bath & Body Essentials
Mambino Organics
MARA
MARISPA, LLC
Masami
MD Glam
Meant
Meliora K, LLC
Melt Cosmetics
Mika Pets
mikel kristi, llc
Miles of Moisture
MintPear
Mip & Toad Manufacturing Inc
MIUS Industries Corp
MO MI Beauty
Moist Towel Services LTD
Moon Luv
Moon Mother Hemp Company
Moon Valley Organics
Moon's Harvest Bath & Body Shop
Moosberry Soap Co, LLC
Moroccan Beauty Secrets LLC
Moroccan Magic, LLC
Motherlove Herbal Company
Mr Wigglebottom's
Mrs 82 Company
Mukama Botanica
Mulberry Skincare
My Konjac Sponge
Max Green Alchemy Ltd
Monica Ann Beauty
Morning Blossom Studio
MS Glamour
Matter Company
Michael Giordano Intl
Milani + Jordana Cosmetics
Madison Reed
Manna Kadar Cosmetics
Maya Chia, LLC
Miami Beach Bum
Minori
Molly's Suds, LLC
muskaan makeup
Madaen Natural Products Inc dba One with Nature + bedu
Manday Grooming Inc
Marula Oil Holdings, LLC
MedZone
Milfloria Mary Allan Skin Care
Millstone Farm & Organics Inc
Mineral Fusion
MM Inc dba Man Mud
Modest Guru Inc dba Cove
MONA BRANDS LLC
My Alchemy Skin Care
N
---
Nail & Bone
naked + thriving
Nalani
Nassani Inc
Natural Yukon Bodycare
Naturally London
Naturawl
Nature Pure Labs
Naturopathica
Nealy Naturals
Nettie's Living Naturally
NEUMA
NFUSE, LLC
Nightshift Wax Co
NIU Body
NoHo Candle Co
Nokomis Naturals
Nomelis
North Coast Organics
nugg Beauty
Nutiva
Nutmeg & Apple Handmade, LLC
NutraLuxe MD
Nandi Skincare
Nemat International
Niawen
NorthWood Candle, LLC
New Directions Aromatics
Naked Cosmetics
Native Nutrition Inc
Nellie's Clean Inc
Noble Panacea
Norah's Naturals LLC dba Hari Om Hemp
Naturally Wild Artisan Soap and Bath
natureofthings
Nava Pets
Nourish & Refine
Nurture My Body
O
---
Oath Essentials Inc
October Fields
Offspring Beauty Co dba VERSED
OH TIFF! Professional Lacquer
OHA Vital Organic Skincare
Ohana Organics
Olfactory NYC
Olivida, LLC
Olomi Inc
OMAURA SKIN, LLC
OneSelf Organics
Onurth Skincare
Opala Cosmetics, LLC dba Shared Planet
Opie & Dixie, LLC
Orce Cosmetics
Otto Skin Goods, LLC
Owl in a Towel, LLC
O'o Hawaii
Obvicare, LLC dba Organic Cube
Ocean Labs Beauty LLC dba One Ocean Beauty
OMIANA
OOO Polish
Orly International + SPARITUAL
OFRA Cosmetics
Oh It's Natural! Skincare
Oh My Heavenly Hair
Oleema Skincare
Oregon Soap Company
Oribel Organics
Original Moxie LLC
Osea International
OZ Naturals
Omniio
P
---
P3 Pure, LLC dba Pretty Frank (formerly Primal Pit Paste)
Pace Creative Group dba SMAK
Pacific Aura Botanicals
Pamada Cosmetics Inc
Pandora's Products
Pangea Organics
Parissa Laboratories, Inc
Passport Polish
Paula's Choice, LLC
Peace for Life dba Vibranz
Peace of Mind Living Inc
Petal and Plant
Pinta
Planet Inc
Plant Devas Inc dba evanhealy
Plant Therapy
Plant's Power
Platinum Skin Care
Plenitude
Pluff Mud Mercantile
Pore People Organics
Pour le Monde
Pow Pow Selections dba Angel Beauty
Powerizer LLC
Prairie Potions
Praz Naturals
Premier Ocher, LLC dba Chuda Skincare
Pristine Beauty
Pulsaderm, LLC
Pure + Simple
Pure In Heart
Pure Mana Hawaii
Puretanica
Paris Honore
Peet Brothers
Perfect Image LLC
Polished Woman LLC
Poofy Organics
Prep U
Proexist
Pure and Natural Pet
Pro Vital Skincare Inc
Puracy
Pure and Gentle Soaps
PiperWai, LLC
Prairie Bliss Botanicals and Laser LTD dba Bliss Botanicals
Papillon
Patrick Smith Natural Health
Plush Organic Skin Care
Pollynation Apothecary LLC
Potion Natural Skincare
Prophet Skincare, LLC
Pure Anada Natural Cosmetics
Purely Lisa, LLC
Q
---
R
---
R+Co, LLC
Real Raw Beauty
Recycline Inc dba Preserve
Refresh Skin Therapy, LLC
Regnskov Company dba MODEVIV + Gal Go Green
REUZEL
Reverie
Revive Naturals, LLC
Rock Candy Beauty
Romer, LLC
Rosco Emmit
Rosemira Organics
Rudy's Barbershop
rue Sante, LLC
Rustic MAKA
RADIUS Corporaton
RH Fafanto, LLC dba Olorun Skin
rareESSENCE, LLC
Rather Unique Skin
Regenrus by SKINbyREGEN
Rituel de Fille
Roses and Azalea
Royal Labs Natural Cosmetics
RealHer Products Inc
Red Monkey Foods dba San Francisco Salt Co
River Organics
Riversol Skincare
Rute Elements, LLC
S
---
Sagely Naturals
Sales and Product Solutions dba SNAP
Sammy Saves the Earth, LLC
Sandrine Riou Cosmetiques
Sanjeevita By Audobon, LLC
Savor Beauty
Sayar Care
Schmidt's Naturals
Sea Kind
Seabuck Wonders
Seaside Medical Technologies
Seaweed Bath Co
Sensible Organics dba Nourish Organics + Promise Organics
SFM, LLC dba Sprouts Farmers Market
Sheffield Pharmaceuticals, LLC
Shemen Amour USA
Shine Cosmetics
Shinhwa Inc dba Pure Aura + Joss+lyn
Shiva's Delight
si SKIN Organics
Silba Body and Skin Care, LLC
Simply Wellness
Sitronu
Skin Specialist, LLC dba Sevani, Crazy Cat Lady, No Bull
Skin2Spirit, LLC
Skinall America Inc dba Earnest Mom
Skindew
SKINourishment, LLC
SkinRawBar
Small World Brands dba Nuria
Smiletwice, Inc
Smith & Cult, LLC
Soap by ATHENA
Soapwalla
Solara Suncare, Inc
Somethin' Special
Spa Organica
Splash of Scent
Sports Research Corporation
Spruce Barbershop
SQUEAK
St Tropica
Starface World Incorporated
STARR beauty products
Stella & Dot, LLC dba EVER Skin
Strange Bird Beauty
Stratia
SULA NYC
Sulina Shop
Sunday Riley Mondern Skincare
Suntegrity Skincare
Supernal
Surface Deep
Surya Nature
Suzi's Lavender
Sweetbottoms Naturals, LLC
Swipes Inc
Sa Sante
Salt & Stone Soap Company
Soapy Soap Company + The Mad Optimist
Social Paint LLC
Sola Look Cosmetics
Solluna by Kimberly Snyder
Sound Earth
Spinster Sisters Co
Suki, LLC
Summer Fridays
Smile Brilliant
schaf skin care inc
skyn ICELAND LLC
Smax Wax
SMB Essentials
Soon Skincare
Seis Cosmetics
Seventh Generation, Inc
Simkha Biocosmetics
Skincential Sciences
sol-is body care, Colorado LLC dba bluerub
Style House Cosmetics
SudSense, LLC dba Cleanyst
Sunny & Honey
Supergoop!
T
---
Tamika's
Tangie, LLC
Taylor Made Polish
Teenology, LLC
Teds Coco
Terra Beauty Products
The 7 Virtue Beauty Inc
The Alchemist's Wife
The Caldrea Company + Mrs Meyers
The Chloelina All Natural Soap Co
The Fruit Bon Bon
The Hain Celestial Group, Inc
The Herbs and Bees, LLC
The Retro Company Group, LLC
Thrive Causemetics
Tin Feather Cosmetics
Tiny Hair Workshop
To112 Inc
TropicSport
True Grit Grooming Products for Men
Tuore
Tweak-d Inc
Tychea Skin Care
TES Enterprises dba TESCosmetics
The By The Way Company, LLC
The Laughing Tree Organics
The Makeup Lab
The Wellness Apothecary
Tilted Halo Fitness LLC
Transparent Ent dba Kino Hawaiian Skincare & Paws Effect
Trendsformers LLC dba Azure + Clair Beauty + Fortify
Taila
The Detox Market
The Erganik Company
The HIKI Brand, LLC
Timeless Organics Skin Care
TOK Beauty
Touch, LLC
TruSkin Naturals
two2guys
Taicorp Enterprises Ltd
Tamara's Sugar
The GelBottle Inc
The Good Habit Co dba Better and Better
The Good Home Company
The Jojoba Company dba The Original Jojoba Company
The Still Beauty
True Botanicals
U
---
ULAT Dryer Balls
United & Free Skincare Corp
unWashed
Upfront Cosmetics
Ursa Major Natural Care
US Cotton dba Swisspers
US Nonwovens
Unsun Cosmetics, Inc
Urban Skin Rx
URGO Beauty
V
---
Vasayo LLC
VEGAMOUR
Velvet & Sweet Pea's Purrfumery
Verdant Plant Biosciences LLC Brookstone Brand
Vetiver Solutions dba Bee Good Do Good
Veyali
Village Common Mercantile, LLC
Viola Rouge
Violet Botanical Skincare
Violets Are Blue
VIP Soap Products Ltd
Visha Skincare
Vitamin A Industries, Inc dba Knotty Boy
Viva Green
VIVAIODAYS
Voodoo Makeup
Vintner's Daughter
Virtue Labs
Virtue LLC
Venus Laboratories Inc. dba Earth Friendly Products/ECOS
Vivoderm Natural Skincare
W
---
Wake Up to Beauty, LLC dba LEVEL naturals
Wally's Natural Inc
Warm Earth Cosmetics
Wash with Water
WC Tonics
whish
WhiteTree LLC dba La Coess
Wildling
Willowdale Botanicals Inc
Woken Vegan
Woods and Whimsy, LLC
WS Badger Company
Wondergloss
WSLG LLC dba Root Journey
Wander Beauty
WO
W3LL People, Inc
WAAYB Labs LLC
Waterfall Glen Soap Company, LLC
WBC Group LLC dba Willing Beauty
Wonderblush
Woodlot
X
---
XFX Makeup
xo FACEcare
Xyrena
Y
---
Yaya Maria's, LLC
Yes To, Inc
YUNI Beauty
YASOU, LLC
Yellow Beauty
Z
---
zero taboos, llc
Zone Luxury Beauty
Zyderma
Zedelia Inc
Zion Health Inc
Z Glow Skincare
Zatik Inc
ZeigSkin
Companies that DID NOT Recommit in 2020
#
---
A
---
A Yummy Apology
Adoratherapy
Aegis, Inc dba ViBrowLash
Afterglow Cosmetics
AHIMSA apotheca, LLC
Alde Vaal Group LLC dba Mollagara
All Heart Cosmetics
aos Skincare
Apothecary Lane
Appelson LLC dba FoxyBae
Arch Addicts
ARIIX
Atarah Faith
AYAM Beauty Care
B
---
Bare Blossom Skincare & Organics
Basic Beauty
Bathing Culture
Beard Factory LLC
beautifood
Beauvivo
BEERSFELD
Behale, Inc
Belle en Argent
beMndful
Better For You Cosmetics
Beverly Hills MD
Biokleen
Black Orchid Soaps
Black Sheep Organics Inc
Bloom Naturals LLC
Blue Lemon Beauty
Boho Aromatic
Botanic Organic
Boutique by Hermosa
Butterfly Bones Organics
BYRD Hairdo Products
C
---
California North
Candi LLC dba CICBeauty
CDBeauty
Charcoal & Rose Petals
Cire d'Abeille
Coco Caffeinate LLC
Concept II Cosmetics LLC
Cora
Creole Secret Therapeutic Aromatherapy
D
---
D&G Laboratories Inc dba Aleva Naturals
Daily Hair Care, LLC dba Daily Dry Shampoo
deja
Derma E
E
---
Earth Soap Company
Eavara, LLC
Ecktor Romero- ERmakeovers
Eco Shave, LLC DBA TICO*
Eco-Me + Little Twig + B & N All Natural
Edyes Naturals
EKC Deodorant
el-e-ments
Elaine Sterling Skincare
Eldivia LLC
Ellen Lange Inc
Elvado/ Bioplanet - div.of Lorin Medical Group Inc. (Elvado)
Empower International Inc
Emz Blendz Soap Co
Esker
EVENPRIME
F
---
Face Envy
Feral Cosmetics
Floral Study
FLUX SKINCARE LLC
For Long Life Inc
Forage Candle
Forces of Nature
fox naturals
Frank T Ross & Sons Ltd dba Nature Clean
Freedom Naturally Beautiful Cosmetics
G
---
Girlpalooza
Glitter Realm Cosmetics
Goldie B, LLC
Good Nature Essentials, LLC
Got a Light Soy Candles
GR8 Skincare
Green Gaia Essentials
Green Glow Shop
Ground Level Skin Care
Gundry MD
H
---
HabLabs dba Aromazotika
Halcyon Botanics, Inc
Hara Healing Boutique
HawgWilde Cosmetics, LLC
HealthySkin.Care
HELLEN
Hempathy
Herbalist Made LLC
Herbs + Oils Bath
Honey & Be
Honeylush Naturals
Humboldt Soap Company
I
---
I AM SELFCARE SKINCARE
Imagen Cosmetics LLC
Infinite CBD
Inked Doll Cosmetics
Intertalent Communications Inc dba Mizz Bloom
IQ Natural
J
---
Jaboneria Marianella
JACQUIE. Cosmetics
Jamberson LLC dba Coffee & Hemp + True Calm
Jar Bar Makeup
JE Cosmetics
Jellen Products, Inc
Jemez Mountain Flowers dba Maxandjane
Joco Botanicals
Jonteblu, LLC
JOYCANADA TRADE Co Ltd dba MEAROSA
July St Claire Cosmetics
Just E Skincare
K
---
K'pure Naturals
Kai and Kula LLC (Kulia)
Kanary Naturals
Kelly Teegarden Organics
Kensli's Love LLC
Kiss Me Honey
Klarif, Inc
Kreyol Essence
Kyra's Shea Medleys, LLC
L
---
L'Fiori Beauty
La Neur
Lafes Natural BodyCare
Land and Sea Hair Company
LaPurre
Laugh to Win, LLC dba INK
Lauree LLC dba Hemp and Co
Lauren Brooke Cosmetiques
Lavender & Lilac, LLC
Lavender Moon, LLC
LCORE Paris
Les Bois Skincare
Lime and Lotus Organics, LLC
Limelife by Alcone
Live Love Polish
Live Your Best Life LLC dba Crystal Wellness Company
Livra Mineral Baths
LOA SKIN
Loaded Goat Homestead
LOLI Beauty PBC
Love Organic Beauty LLC dba The Golden Elixir
Love Sylvie
Lovewild Design
Lovinah Skincare
Lubricity Labs, LLC
Luminance
LYDA Beauty
LYXR Inc
M
---
Maconia
Maelle
MAHALO Skin Care
Mainline Concepts Intl
Man Inc
ManiMe
MDSOLARSCIENCES
Me & T's Handmade Soap
Me Care Body Line
Milli Miracle, LLC
MM Beauty, LLC dba Maria Marin Beauty
mooi lab
MoonLily Wellness
MotherEarth Inc
Mountain Sky
Mouthful
Muni Muni Skin Care
Mushroom Revival
My V-Line Health
Mystic Winter Co
N
---
NAIWBE Natural As I Wanna Be, LLC
Naked Truth Beauty
NakedPoppy
NannaJuanas
Native Essence Botanicals
Natural Vegan Club
Naturalbee Organic
NaturaLee Made Inc
Nature Goddess
Nature Sustained
Nature's Beauty Mix LLC
Nature's Inventory
Nayelle-Probiotic Skincare
Nelum Botanics
Northlore
Nourishe Organics
Novoqueen Pro Studio
NuCelle Inc
Nude Envie
Nyme Organics
O
Okoko Cosmetiques
Olivia Rose, LLC
Orenda Skin Care
Osmotics
Out of Africa
P
---
Painted by Wendy Cosmetics
PaleoBath
Paradox Beauty, Inc
Penny9 Cosmetics, LLC
Phi Therapeutics dba Phyla
PHLUR Inc + Explore Naturals
Pistache Skincare
po•tion LLC
Polliwog Essentials, LLC
Pour Moi Beauty LLC
Private Stache
Profile4Men dba Profile + Profile Cobalt
ProfilePro LLC dba Cloud 10 + HairRx
Proze Performance Nutrition
PUR Home
Pura Botanicals
Pure Placid
Q
---
Qosina Corp dba Qosmedix
Queen City Alchemy, LLC
R
---
Rebel Green
Rebirth Beauty
Red Line District Cosmetics
Red Queen Cosmetics LLC
Red Velvet Art LLC dba Oui Fresh
Redolent Rogue
Regenix
Return to Eden Cosmetics, LLC
Risana Beauty, LLC
Roccanskin LLC
S
---
SADE BARON
Sage Stone Botanicals
Saint Alabaster
salteasoak
Sangre de Fruta Botanical
Santa Venetia Candleworks
Sany Skincare Inc
Sapo All Natural
Sati Organics
Savior World
Scents the Moment
Shabacare
Shelton Beauty
Sierra Sage
SIRCUIT Cosmeceuticals
Skin Actives Scientific
Skin and Skull
Skin Essence Inc
Skinny & Co
Skinsatia
Skylar Body
Smoky Mountain Soapworks
Soaphisticated
Soaptopia Worldwide, LLC
SoGa Artisan Soaperie
Soigne
Some Essentials
Southern Telecom dba Mogu
Space Skincare
State of Sun
Strobe Cosmetics, LLC
Sugarberry Soap
Sugarpill, LLC
Sunflower Meadows Herb Farm
Swabbies Technologies, Inc
Sweet Blessed Bee Magic, LLC
Sweet Cheeks Organics
Sweet Life Spa
Sweet Life Treat
T
---
Tata's Natural Alchemy, LLC
Teadora, Inc
Tegelix Health Inc dba Eptex
Tenet.Life
Terra Beauty Products
Terra Luna Beauty
The Bare Home
The Bath Bomb Outlet
The Dirty Goat
The Flowered Life
The Handsome Bee Company
The Holistic Health Co
The Laughing Mermaid Inc
The Mitten Roots
The Natural HBC Group, LLC dba Aroma Naturals
The Saroya Collection
The Scrub Bar
The Workshop Soapery, LLC
Tibolli, LLC
TiliaLime
ToN Cosmetics
Tulip
Two Blooms Design Studio
U
---
Ulei de Lux
Ultimate Creations, Inc dba Infinite Aloe
Uncharted Artistry Body Love
Urban Botanicals
Urth Organics
V
---
Velmaxxx Enterprises, Inc. DBA No No-See-Um
Velvet Report
Vermont Country Soapworks
Vingt Oral Care
ViTa
W
---
Wellness Medical Marketing LLC dba Botaniflex
White & Elm
Wild Grace
Wilder Skin Co
Wildland Organics
Willow & Moon
Wreck n Roll
X
---
Y
---
Z
---